SAF Lock Double
The Altor SAF Lock is the world's first angle grinder proof bicycle lock. Angle grinders have become the new norm in bike theft, yet every bike lock on the market is only designed to protect against hand tools. At Altor, we've been making and selling bike locks for years and have seen first-hand how destructive angle grinders can be. It became our mission to do the impossible.
We created the best, most secure bike lock in the world. Made from a 14mm hardened steel shackle, wrapped in our patented aluminum shell, and attached on both sides to a double-locking cross bar inside a hardened steel case, the SAF Lock will defend your bike against even the most determined attack. The Double SAF Lock comes with eight matching keys, so you can share with a friend and have a backup in case one is lost. Leave one SAF Lock at work and one at home, or share one with a friend.
 The SAF Lock Features:
A 14mm hardened steel shackle
Our patented aluminum protective shackle
80mm shackle diameter
Double Locking Cross Bar

High security disc detainer lock mechanism

Soft Outer Coating to protect your bike

6.2 kgs total weight

200 x 280 mm outer dimension
80 x 140 mm inner dimension
This Package Includes:
Two Altor SAF Locks
8 

matching laser engraved high security disc detainer keys
All of our products are covered by our extensive warranty and 30 day trial
The best in the world (happy customer from the U.K.)
After getting our bikes stolen at home for the second time, I did a thorough research on the best locks in the entire world and this was by far the best ones.
It's huge, robust and heavy! and if you haven't seen any videos about grinding locks please check how easy it is to grind any lock and then how impossible it is to grind this one! Even lock picking is way more complicated.
If you have a good bike definitely worth the money!
The only con is how heavy it is(5kgs) and given how light my bike is 5 more kilos is important to consider. But if safety is paramount for you then go for these!
Can't recommend these more!
The customer support team was incredibly fast responding with help to deliver these swiftly to London!
Amazing product and awesome support ⭐️ ⭐️ ⭐️ ⭐️ ⭐️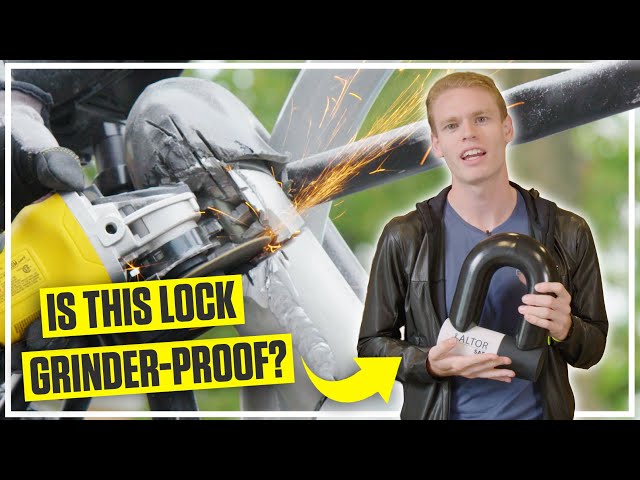 Cartoon lock is no joke!
This lock looks like something out of a cartoon but man is it impressive. I feel very confident no one is getting my bike without an insane amount of effort.The bike rack you attach it to would be the weakest link.Handmade in the U.S.A for the win !
Massive locks
These locks are massive! I wanted a lock that could be left at home for locking up my bike. I can see that nobody is going to be able to take this off without a lot of time and work which is great! The one thing I've been pondering is what the best way is to use this lock as the only place I could see it fitting is on my ebike is directly on the frame. It's too large to through a wheel so maybe at the bottom of the frame to be in the way of the pedals??
Bike thieves using angle grinders in broad daylight is the new normal. Don't let it happen to you.
Click here to see why #BikeThievesSuck
The SAF Lock is perfect for...
Overnight Locking
The SAF Lock is the ideal lock for keeping your bike safe overnight. It is specially designed to thwart any attempts to cut it. This isn't your everyday carry lock. This is the world's strongest lock.
E-Bikes
Your E-bike is a valuable target for would-be thieves, and at 13.2 lbs (6.0 kg) the SAF Lock weighs less than many chain locks you may already be considering using. The only, and most important, difference is that those chains can be cut in under 45 seconds while the SAF Lock can't.
Frustrated Cyclists
Has your bike been stolen? After years of designing and selling locks, we know that angle grinders defeat even the best of locks. Since the advent of the affordable portable angle grinder, thieves have increasingly traded up their bolt cutters for angle grinders. The SAF Lock is the first and only lock designed to combat this.
Bicycling Magazine
Cut Test
Bicycling Magazine took our lock to task and produced a comprehensive testing video. While it takes seconds to get through normal bicycle locks, it took Bicycling Magazine over an hour and multiple angle grinders, blades and batteries to get through our lock. Read and watch their complete review here.
Read More
Angle Grinder Resistant
The combination of material and geometry of the SAF Tech shell quickly wears through angle grinder discs and batteries.
Pick Resistance


Designed from the ground up, the SAF Lock uses an eight disc disc-detainer lock mechanism with false gates and a unique key profile that makes picking as difficult as possible.
Resists Traditional Attacks
While the SAF Tech protects from angle grinders, The SAF Lock's through-hardened steel core shackle and anti-rotation locking bars stand up to the toughest of hand tools.
LockPickingLawyer Pick Test
The LockPickingLawyer says "the chances of this being picked on the streets are essentially zero". Watch as he picks the SAF Lock with a pick he custom made himself because there are no picks commercially available for the SAF Lock.
The interior of SAF Lock is the
same size as many U-locks.
The SAF Lock weighs less than some of the highest security chain locks on the market.
SAF Lock

(Angle Grinder Dies First)
13.2 Pounds / 6000 Grams
Leading Chain Lock

(18 Second Cut Time)
15.25 Pounds / 6920 Grams